This Duck and Peach Salad is one dish I had to share with you. I made it up on a balmy Summer night, when it was too hot to cook. I use it at least once a week, because I can use anything in my fridge. It's quick, colourful and very yummy. I have entertained with it as well, with great success. There are a couple of must haves in this recipe, but they are staples of mine, so I usually always have them in the pantry or fridge.
In all these shots, the Duck Salad is sitting on my Caesarstone bench top. I admit that last line is not a great segue, but I had to get here somehow.
I love those Beach House bench tops, almost as much as I love Mr Beach House. However, just like him, they came with a few faults.
Apparently, in the case of the bench tops anyway, the powder was not mixed properly in the factory, so there is a small area where there looks to be finger prints. The kitchen is very light and bright, so they really show up. There is also a small crack in the stone. No one really knows the faults are there, unless I point them out. But I can tell you, they nearly did my head in, until I got some perspective.
I must say the Caesarstone company was VERY VERY difficult to deal with. After visiting my home and telling me the faults originated in their production process, they basically dumped me. They referred me back to my builder, as he had the contract with Caesarstone, not me. ARRGH!!
I was a lawyer in a past life and I know a thing or two about the law, but at that stage reason went out the window and I just wanted fault free bench tops. I don't know about you, but I think if you are paying top dollar, you are entitled to a faultless product.
Luckily, the builder did rise to the occasion and reduce the price. New stone was not an option as the bench tops could not be easily replaced. They could not be ripped out without damaging the cupboards., so I had to go with the discount. I have seen enough of the inside of a court room to know when to walk away and focus on what really matters in life.
Next time there is no way I would let the stone mason glue them down until I had checked it and checked it again. In fact next time, I would not use Caesarstone. Kind of like those guys you date in your twenties. Very good looking but you couldn't possibly see yourself sticking with them as they are all shine and no substance.
Anyway, this is supposed to be a post about a Duck Salad in a Beach House kitchen. Tomorrow the receipe if anybody would like it.
That's it from the Beach House kitchen today, but there was some lovely news last week that I want to share.
It was very sweet of Kirsty, over at
to feature me and nominate me for a stylish blogger award. My first, so it's very special.
Now, I am a new kid on the block, so I referred back to Kirsty as to just what all this means. Apparently, the etiquette of this lovely gesture, is that I am to pass it on to 8 other bloggers. But, to make it really special, I have decided to award it to just one blog. The reason is, I am just soooooooo appreciative of all her help in getting the design of this blog up and running. So, I award the Stylish Blogger Award to the wonderful Shari over at
No question or request was too difficult for the gorgeous Shari. She was supportive of all my design briefs. I believe the results are fabulous. I really recommend her services.
Well my loves that's enough excitement for one day.
Lots of Love
C
Today I'm linked up at
and
and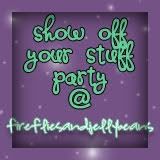 and
come over and join the party