Styling with shells and coral has gone global and down here at beach house central I am finding new and hip ways to present the collection which has been amassed over too many years to remember.
Lately, I have been styling shells with this terrazzo bowl and a candle. Only about $40 to put together, plus the cost of the shells, of course. The bowl comes from The Pot Warehouse in Mona Vale and the candle is from the discount shop.
I think it makes a great coffee table dressing and it is one I have used and replicated for clients in my styling business.
I admit the coffee table needs lime washing, but that is for a later post.
Another way I display shells, is lined up in a row. Sea urchins are particularly good for this. They are such delicate little babies. Just like the the Beach House brats,who have broken a few of them over the years. As Mummy has now wised up, they are now kept up high and out of harms way on the mantle piece. The mantle piece that is, that the oh so compliant Mr Beach House constructed for me recently.
Another option I use when styling with shells is putting them with pineapples. More affordable than flowers and oh so effective.
I have been known to fill this big shell, I picked up some years ago in Noosa, with curry. Alas, my curry making days are over for the moment, so sorry...... there is no picture to illustrate my past culinary pursuits. Mr Beach House has been struggling with take away curry lately. But I keep reminding him, this is the year of Carolyn, to which he scoffs, "It always has been".
Now, as for styling with coral, that most beautiful creature of nature, I give you the following;
And for may absolute favourite piece, this magnificent basket that never fails to be noticed by newcomers to beach house central. I have ordered ten from my darling supplier, so I can fill the constant demand for them, but he is yet to come up with the goods. So stay tuned for their arrival.
And here it is on my kitchen bench.
Well my fellow beach combers, I hope I have inspired a little shell and coral magic in your life today.
Please leave a comment below, if you like what you see. Also look out for my blog design which will launch in the next few days.
Yours in trying to spread the love,
Today I am linked up For the Friday Link Party at
and
and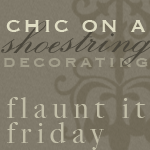 and
and
and